In the spirit of the Jewish value of trying to improve our world, we look for opportunities to participate in community programs.
IPRR – Interfaith Partnership for Refugee Resettlement
As a synagogue we contribute to their efforts and many members volunteer their time in their field of expertise.
Children's Tzedakah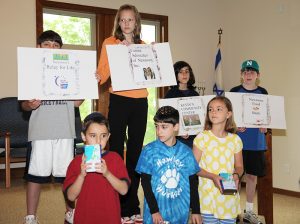 We teach our children at a young age to help those in need. Our school children bring in spare change to put into their classroom tzedukah boxes throughout the school year. On the last days of school, they vote on where it should be donated. This year it went to the Canine Advocates of Newtown.
Collections
Throughout the year, we collect food for the local food banks of Monroe and Newtown; collect new and used stuffed animals for needy and sick children in the US and around the world and collect calendars which are used as teaching tools for those learning English.
Community Care Committee
The importance of community is a basic tenant of Judaism.  Our faith emphasizes in prayers, laws, and teachings that the presence of God exists within the context of the community and is evidenced in our interactions with each other.   At Adath Israel many individuals work hard to create a vital and vibrant community where congregants feel a sense of belonging and fellowship and where we come together to practice our faith, to pursue Jewish learning, and to enjoy many activities. An important aspect of community membership is also feeling cared for and having opportunities to care for others – tzedakah.
With that in mind, and in the spirit of nurturing our connections to one another, Adath Israel has created our Community Care Committee.  The purpose of this committee is to assure that when one of our members is in need of support and assistance, their Adath Israel family will be there to provide a measure of care, comfort, and various means of support.  Of course, a key to the success of this committee is in knowing who in our congregation needs our help.  Often that will be common knowledge but there will also be many times when the committee members might not be aware that someone needs our help. Therefore, we'll be relying on people to contact us.  When you know of someone in our community who needs our help contact us through the Adath Israel general email address: office@congadathisrael.org. The information will be passed along to the Community Care Committee and we'll get to work.