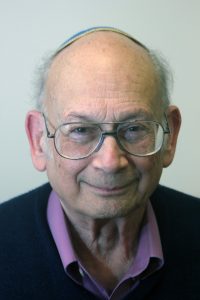 Rabbi Barukh Schectman has been the Rabbi for Congregation Adath Israel since 2016 and is a valued member of our community.  Rabbi Schectman brings with him stability, poise, maturity and knowledge. Both scholarly and personable, he tries to meet all who attend services and those who bring their children for a Jewish education.
In addition to his spiritual responsibilities, Rabbi Schectman provides counseling support to congregants, oversees our educational programs, and brings a wealth of spiritual and educational experience to Adath Israel.  He is also a leader in community activities, participating in the Interfaith Council in Newtown and with the Jewish Federation of Western Connecticut.
For the previous sixteen years, Rabbi Schectman was Rabbi at Congregation Tephereth Israel in New Britain, CT as well as a substitute and remedial Hebrew teacher at Solomon Schechter Day School in West Hartford.  He also served as Rabbi at Congregation Beth Ahm, in Windsor, CT where he was the principal and a teacher in their religious school.
Rabbi Schectman's experience goes beyond the synagogue. He was the full-time Jewish Chaplain for the Connecticut Department of Corrections from 1998 to 2013.
Rabbi Schectman attended the Jewish Theological Seminary of America where he was ordained.
Contact:  rabbi@congadathisrael.org
Executive Director / Administrator
Susan Rubin and her family have been members of Adath Israel since 1994.  During the years her children attended Hebrew school, she volunteered as a class room parent, worked on several fundraising projects and was the Education Chairperson for three years. In 2004 Susan was presented with the Shem Tov award for outstanding service and dedication to the synagogue.
Susan is a graduate of Syracuse University with a BFA in Design. After working for 14 years in the Commercial Interior Design field and then staying home with her young children, she decided to embark on a new career.
In 2005 she started in the position of Administrative Assistant at Adath Israel which eventually grew into her expanded role as Executive Director.  In addition to working at Adath Israel, she currently volunteers as editor of our synagogue newsletter, The Adath Israel Tradition.
Susan is responsible for the day to day operations of the synagogue. She works with the Rabbi, members of the board and assists the committee chairpersons. She works with the B'nai Mitzvah families to ensure everyone is on track and things are running smoothly. She is happy to provide all of our members and guests with the information and assistance they need to keep informed and feel welcomed at Adath Israel.
Contact:  office@congadathisrael.org